郭萬銓 副教授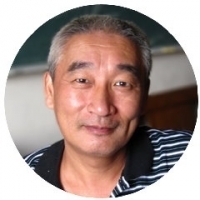 郭萬銓 副教授
Wang-Chuang Kuo
研究室電話: 07-5252000-3726
研究室: 物理館PH6005
到職年月:1990/08
退休年月:2022/06
Email:kuo@mail.phys.nsysu.edu.tw
● 美國愛荷華州立大學物理博士(1990)
● 中央大學物理碩士(1982)
● 淡江大學物理學士(1979)
● 密度泛函理論專題研討、相對論、計算機物理、古典力學
● X射線繞射下的分子結構研究
● 全始算原子,分子與凝態的電子分布
● 複雜系統
(Open/Close)
● V. T. Tra, R. Huang, X. Gao, Y. J. Chen, Y. T. Liu, W. C. Kuo, Y. Y. Chin, H. J. Lin, J. M. Chen, J. M. Lee, J. F. Lee, P. S. Shi, M. G. Jiang, C. G. Duan, J. Y. Juang, C. T. Chen, H. T. Jeng, Q. He, Y. D. Chuang, J. Y. Lin, and Y. H. Chu, 'The Unconventional Doping in Yba2cu3o7-X/La0.7ca0.3mno3 Heterostructures by Termination Control', Applied Physics Letters, 110 (2017).
● W. C. Kuo, Y. H. Wu, Y. C. Li, and T. C. Yen, 'Criticalities and Phase Transitions in the Polarization Switching of Vertical-Cavity Surface-Emitting Lasers', Ieee Photonics Technology Letters, 24 (2012), 2262-64.
● C. P. Hsu, T. C. Yen, D. L. Cheng*, and W. C. Kuo, 2010, "Multimode Suppression in a Vertical-Cavity Surface-Emitting Laser by a Single-Mode Fiber Cavity,"IEEE Photon. Technol. Lett.. (Accepted, to be published in 2010)
● C. P. Hsu, D. L. Cheng, W. C. Kuo, and T. C. Yen* , 2009, "Conducting single-transverse-mode operation with a wide tuning range in commercial multimode VCSELs by beam-profile-adapted optical feedback," Opt. Lett., vol. 34, 2861-2863
● Y.- L. Yang, T.- F. Young; W.- C. Kuo, S. - H. Fang, and Y.- K. Chao, "Surface plasmon resonance absorption of Albumin/water on Ni thin film deposited on Si at 230°C", Biomedical Engineering. vol. 20 no. 6 , 393 (2008)
● Da-Long Cheng, Tsu-Chiang Yen, Wei Chang, Wang-Chuang Kuo, Kuo-Sheng Kao, and Chuan-Pi Hsu, "Polarization Mode-Hopping Suppression and Performance Enhancement by Optical Feedback in a Current-Driven Polarization Switching(CDPS) VCSEL", IEEE Phot. Tech. Lett., vol. 19, no. 24, 1961(2007).
● Wang-Chuang Kuo and Jen-Chung Wang, "First Principle Calculations with Interpolating Scaling Function on Adaptive Gridding ", int. joul. mod. phys. C, vol. 18, no. 11, 1675(2007).